Atlantic Kayak Association

2003 Trip Reports & Pictures
October
October 12, 2003 - Little Buctouche River
Kilby, Don and myself had a relaxing paddle up the creek, with a paddle. The winds were light, and the temperature soared to about 25C.
Autumn in the Maritimes.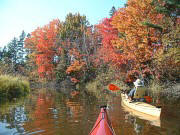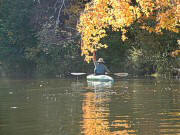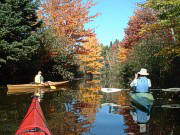 October 25, 2003 - Barn Marsh Island
Don & Gerry decided that, due to the super high tides at Cape Enrage (almost 3 meters higher than normal), and the relatively mild forecast, a final paddle of the regular season was in order. We put in around 11:30, and circumnavigated Barn Marsh Island (in about 3.5 hours - 14km).

With the breeze at our backs, it was an easy paddle for the first half of the trip. Autumn colours, and a small family of Great Blue Herons kept us company. Peak speeds were reached when we were exiting the marsh - my GPS clocked speeds of 12.9kph - flat water, but really flying.

The second part of the paddle turned out to be more work than anticipated. The weather forecast was 10kph winds from the West - it turned out to be 30kph winds from the South - right in our faces. This necessitated sticking really close to the shore, letting the cliffs block most of the wind. I said most of it, because the last 1/2km back to the cars was fully exposed, and to say the least, exhilarating.