Atlantic Kayak Association

2004 Trip Reports & Pictures
October
October 02 - Kouchibouguac River Paddle
It doesn't mater how you count it, 12 people or 8 boats, we had a good showing for the first of our fall colours runs – three generations of the Russell family. 4-singles and 4-doubles showed up for this (estimated 12km) one-way paddle, downstream with the slight current – the wind couldn't make up it's mind, but for the last half of the paddle, was in our faces. Some of us practiced towing – easier when you don't have a rudder in the way to snag the tow-line.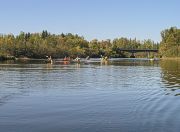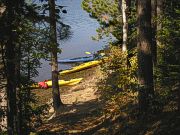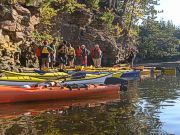 October 17 - Circumnavigate Cape Enrage
Four of us did the circumnavigation of Cape Enrage, and we had weather. As a mater of fact, it totally missed on the weather forecast. The wind was not coming from the forecast direction, and instead of dying from about 20kph, it doubled to 40KPH for the last half. RAIN - fortunately the wind was behind us, but it POURED - the water had a haze to it from the bouncing drops. A bit of sheet lightening for a few minutes just to add to the drama – fortunately the tree-topped cliffs are a lot higher than we were. About the only thing we didn't have is big waves.

As mentioned, there was a steady 40KPH wind in our face for the last half of the trip, with higher gusts, but I had timed the trip on a rising Spring tide, so we had a current that ran from about 10KPH at the entrance to the creek, down to about 4KPH near the end of the paddle. We were going so fast, we actually finished about 15-minutes too soon - not quite at high tide (bottom scraping across the grass).