Atlantic Kayak Association

2005 Trip Reports & Pictures
August
August 05,06,07 - Grand Manan, NB
Don wrote up a little trip report.
We had a great trip to Grand Manan this weekend. The weather was perfect. The sea was incredibly clear and the scenery was magnificent. We'd all like to go back and stay a little longer next time. We saw plenty of seals and porpoises, some white-sided dolphins and a Minke whale. The underwater shot is from 20 feet above. We found a cool stone camp on an isolated stone beach...no roads.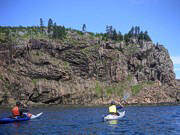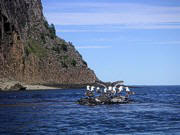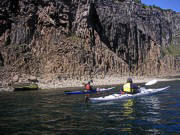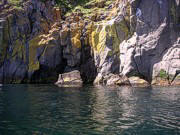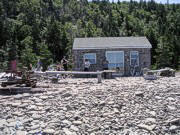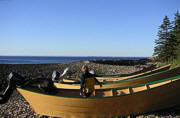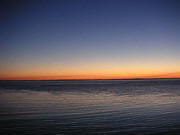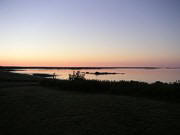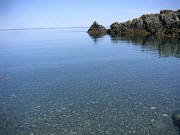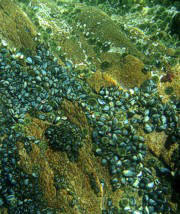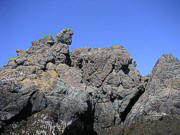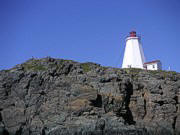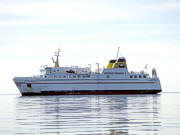 We've been having "unstable" weather as-of-late; thunder showers are not conducive to great paddles. Our August Bridge Paddle was greeted with rain on Saturday, and rain scheduled (but late) for Sunday. Two to three hours sitting in a kayak in the rain is just not worth it.
August 17 - Cassie Cape
Nice little paddle today, only 5.2 KM. Only five of us showed up, and while sunny, it was somewhat windy, with the corresponding waves. It was too much like work paddling into the wind, which we did for an hour, then turned around and surfed our way hack in half that time. My GPS showed a maximum speed of 13.9 kph, which may be a tad off, but speeds of 10 kph were not at all uncommon, down-hill with the wind behind you.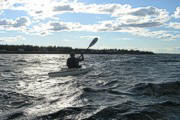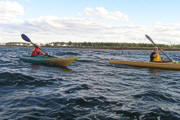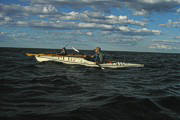 August 20 - Port Elgin (Baie Verte)
There were only 4 of us that showed for this paddle. The light winds we had died around noon, and we had a relaxing 11.4km paddle. We put in at the wharf in Port Elgin, and paddled down the Gaspereau River into the Bay, past the National Historic Site of Fort Gaspareaux (renamed Fort Monckton by the British) and into the Baie Verte proper.
History of Port Elgin
We could easily see why it was called Baie Verte, for the bright green saltwater grasses which grow in the bay, was floating everywhere.