Atlantic Kayak Association

2007 Trip Reports & Pictures
Ju
ly
July 04 - Aboiteau Wharf
We've been having a run of rain in the past couple of weeks, like over 200mm, so when Wednesday dawned looking like another bad day, with accompanying rain and wind, most of us chickened out. It turned out to be a great evening, and members that reside in the area took advantage of it.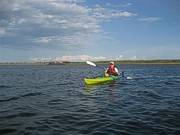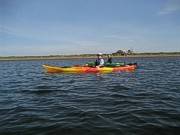 July 07 - Petit Cap
Again, while the weather didn't look great to start, it calmed down and the sun came out. Seven paddlers came out for this 12.5km paddle.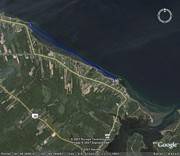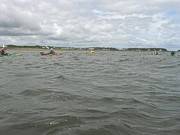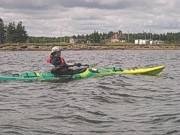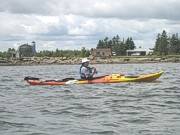 July 11 - Buctouche Dunes - North End - Saint Edouard de Kent
We seem to be stuck in a rain-loop. While it didn't exactly rain on our paddle, it did shortly after we got out of the water.
Six paddlers showed up for this paddle.
Wind gusts were measured at 29.5kph, but being from the land side, had no effect on the water itself.
We did shorten the paddle from it's usual 3-hours down to 2-hours (7km) due to the impending rainstorm (and it did pour).
Don brought out a new Impex Force Cat 3 to show off - slick boat, smooth and easy to paddle.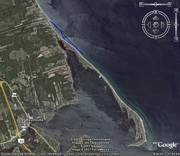 July 15 - Point Wolfe to Alma, NB
While this is not a "normal" paddle trip, the weather, sea conditions and tides aligned to provide us with the opportunity for a fantastic paddle, from within Fundy National Park.
Point Wolfe has a ±1.5 hour tidal window, and Alma has a 2 hour tidal window. This means that you can have a leisurely 3.5 hours to paddle the 11.6km from Point Wolfe to Alma, and it is a beautiful paddle.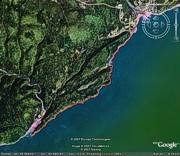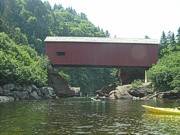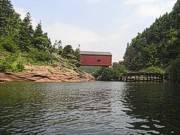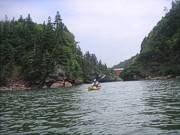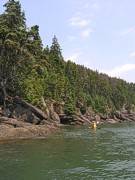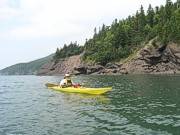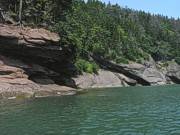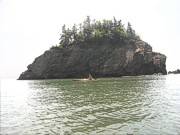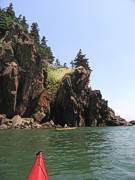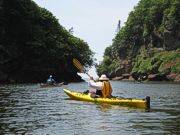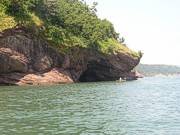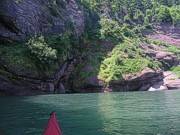 July 18 - Aboiteau Wharf
We had 9 boats show up for tonight's paddle. Everybody noted that it was windy at home, but it was calm winds and seas for the paddle. It did look like it was going to rain on us, but apart from a few sprinkles, most of us stayed dry. Three people were convinced that this was the perfect night to roll. Two succeeded. Maybe when there are fewer jellyfish in the water I might be tempted to dust off my roll, but for now, I'll just help people back into their boats.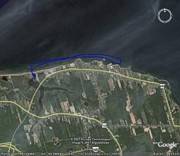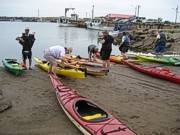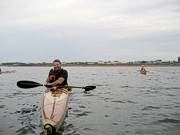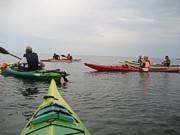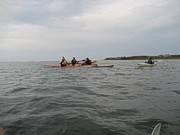 July 21 - Cassie Cape to Cocagne Island
Once again, it looked like rain, but the sun even made an appearance. Only 4 turned out for this 9.4km paddle.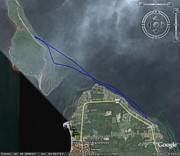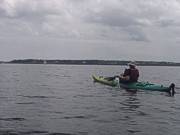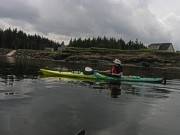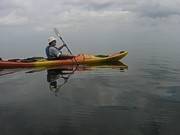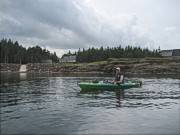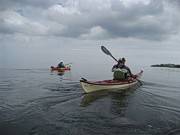 July 25 - Bourgeois / Caissie Cape Government Wharf
Maybe it was the heat in the city, but we had 11 turn out for this evening's 10km paddle.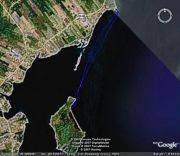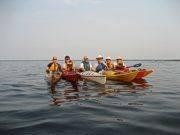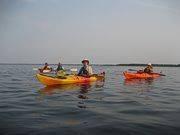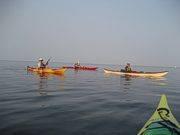 July 29 - Five Islands Provincial Park, Nova Scotia
This was a combined paddle with the Pictou County Paddle and Oar club, and we had 17 boats out for the paddle. Quite a turnout and the weather obliged with perfect conditions. Impressive scenery and it was hard to narrow down the 100+ pictures taken to something that would fit on this page. A larger selection of images is available here.