Atlantic Kayak Association

2007 Trip Reports & Pictures
Pre-Season
January to April 2007
Just about the exact opposite of last year, very cold, and wet. Some did manage to get out in the March/April timeframe, but I refused to shovel a path into my storage shed. I managed to make it out the end of April for a little Hopewell Rocks paddle.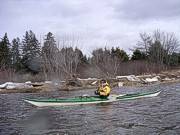 April 07 - Canaan River
May Paddles
Our first scheduled paddle of the "official" paddling season, the May 19th long weekend was a washout, literally, with nearly 180mm (that's about 3½ inches) of rain, with temperatures running up to 10ºC. Three of us did make it out the following weekend (May 27) for a paddle at Aboiteau Wharf. It was cool on the water, and we all had to let out the straps on our PFD's due to shrinkage over the winter.