Atlantic Kayak Association

2015 Trip Reports & Pictures
August
Rather than put a bunch of thumbnail images to click on that send you to the full-size images, the map thumbnail sends you straight to the start of the image set.
August 06 - St Thomas - Bouctouche Dunes
Well, the weather looked nasty, so rather than paddle 2km out to the dunes, we three stuck close to the shore and did an 8.2km paddle. We paddled in the sun for the entire trip.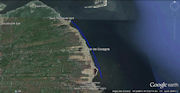 August 08 - Shediac Island
We had 8 turn out for this somewhat windy, somewhat bumpy, lots of spray 11.2km paddle.
Good workout.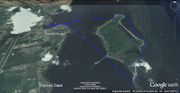 August 16 - Wolfe Point to Alma
It was 33 degrees, sunny, hot and humid in Moncton... not so at Point Wolfe.
There were gale-force winds blowing up river as we tried to reach the point.
From the standing waves at the point to Squaw's Cap the wind was strong and cold... but it was at our backs. Things got a little calmer as we left Squaw's Cap and headed for Alma.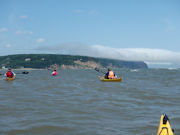 Aug 30 - Kouchibouguac Grey Seal Adventure
Don't know how many seals there were, but more than 50 were there keeping an eye on the 14 of us.