Atlantic Kayak Association

2015 Trip Reports & Pictures

July
Rather than put a bunch of thumbnail images to click on that send you to the full-size images, the map thumbnail sends you straight to the start of the image set.
July 01 - Saint Martins to Big Salmon River
Ten turned out for this 14.5k paddle.
Light winds meant a persistent fog. The sun tried to break through a couple of times, but we had a great paddle, if somewhat rushed.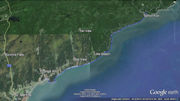 July 04 - Three Sisters
Seven paddlers, six boats turned out for this scenic 10K paddle.
A bit of a wet start with the wind blowing 18" waves on shore, but it was smooth sailing from then on.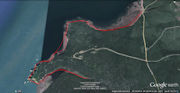 July 05 - Confederation Bridge
Nine paddlers paddled the length of the Confederation Bridge.
Conditions were perfect. We sang "Happy Birthday" to Kilby halfway.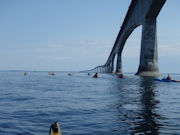 July 09 - Bourgeois / Caissie Cape
Small turnout on Thursday evening for this 7.25km paddle.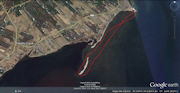 July 11 - Cap Lumiere
Really low turnout of only 3 paddlers for this 12.5km paddle.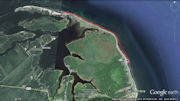 July 18 - Cocagne Island
Overcast but calm. Seven turned out for this 13km paddle.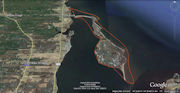 July 22 - Bateman's Brook
The thundershower ended so we started.
We put in at Shediac Bridge and paddled up Bateman's Brook one km past the last cabin… with the pig on the porch and the ceramic boy fishing on the dock.
We just had a very nice evening on the Shediac River, 5 of us one new couple.
July 25 - Petit-Cap
We had seven turn out for this overcast 10km paddle. From Johnson's Point we could see the Confederation Bridge in the distance.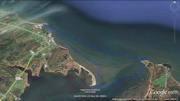 July 29 - Bourgeois / Caissie Cape
Only 5 turned out for this 12km paddle.
While it was looking like it would be down-right nasty in Moncton, 30km away it was fantastic!