Atlantic Kayak Association

2016 Trip Reports & Pictures
October
Rather than put a bunch of thumbnail images to click on that send you to the full-size images, the map thumbnail sends you straight to the start of the image set.
October 04 - Tidnish/Baye Verte
No wind, relatively warm, water like glass. Six turned out for this 11.5km paddle.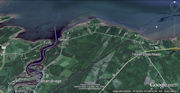 October 15 - Hopewell Rocks
Yes, it was cool, but four dry-suited individuals showed up for this paddle.
It was a great paddle, until the tide turned and it got a little rough/wet paddling against it.
Still, no problems.