Atlantic Kayak Association

2017 Trip Reports & Pictures

June
Rather than put a bunch of thumbnail images to click on that send you to the full-size images, the map thumbnail sends you straight to the start of the image set.
June 07 - Aboujagane River
Wednesday evening was very nice... warm calm weather.
This was, by far, the nicest evening of the season, to date. We saw a couple large Bald Eagles.
Only 7 paddlers.
Imagine most folks are trying to get their yard work done. It has rained most days for the last couple months.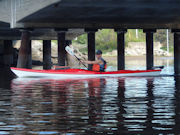 June 18 - Scoudouc River
Turn-out is still very low. Of course... it's Father's Day, it's windy, and it's finally dry enough to work in the garden. We had five paddlers out for this paddle.
As you can see in the photos, the wind was strong in open water... but very pleasant up-river.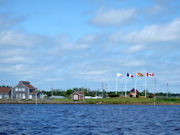 June 25 - Cape Enrage
If you were thinking of going, but didn't, be glad.
It was a challenging 13.5km paddle from the word go, with waves at the launch point, finishing with 7km of very strong head-winds - easily over 20km/h.
Only two of us were crazy enough to paddle it.