Atlantic Kayak Association

2017 Trip Reports & Pictures
October
Rather than put a bunch of thumbnail images to click on that send you to the full-size images, the map thumbnail sends you straight to the start of the image set.
October 07 - Little Bouctouche River
Sheltered from the wind the seven of us had a nice 12.5km paddle.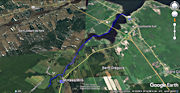 October 09 - Scoudouc River
Thanksgiving Colours.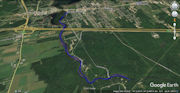 October 21 - Hopewell Rocks
While there was a wind, the direction of the wind was ideal for sheltering us during this paddle. We had fun as this was a Spring tide with lots of water permitting access to locations too shallow otherwise.
We had only 4 people turnout for this 4.5km paddle.