Atlantic Kayak Association

2019 Trip Reports & Pictures
July
Rather than put a bunch of thumbnail images to click on that send you to the full-size images, the map thumbnail sends you straight to the start of the image set.
July 01 - St Martin to Big Salmon River
We probably would not have done this paddle, but Judson arrived and seem eager to experience the paddle from St Martins to Big Salmon River. The paddle started out tame enough but soon morphed into the adventure we had expected... and more.
It tested the limits of our ability. We fought wind and wave. The worst part of the paddle came as we entered the Big Salmon River basin... the wind was a steady 50 k/h gusting to 70... just relentless.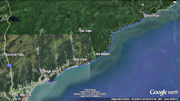 July 06 - Circumnavigate Cocagne Island
Potentially nasty weather late this afternoon, but the 6 of us were off the water by 1PM.
It was a pretty nice, and at times hot 12.3km paddle, with half of it sheltered from the SW wind, and the other half with the wind pretty-much at our backs.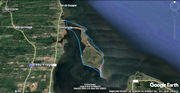 July 10 - Buctouche Dunes from St Thomas Wharf
Pretty nice evening but only four turned out for this 8km paddle.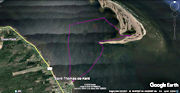 July 18 - Bourgeois / Caissie Cape towards Shediac Island
Eight members showed up for this 8km paddle.
One of the problems with living on the Atlantic coast is tides, and we were near low tide. That being the case, we decided to paddle in a Southerly direction to avoid most of the sand-bars.
We did see Eagles, Osprey, Blue Herons, and Turns, all fishing in the shallow water.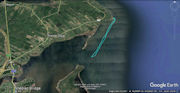 July 24 - Buctouche Dunes from St Edouard
We had six members show up for this relaxing paddle. Even saw an osprey dive after some finny food.