Atlantic Kayak Association

2019 Trip Reports & Pictures
September
Sept 01 - Five Islands
Note to self - don't schedule on Perigean Spring Tides.
Heavy conflicting currents & waves - no beaches.
We pulled into our normal lunch spot, and the tide kept rising to the point that we were up against the rocks. We moved to a second location and had the same thing happen - quickly.
We even had the same issue at the take-out point - no beach.
Seven turned out for this 9.75km paddle, shorter than normal for this location but the currents meant we didn't paddle around Moose Island.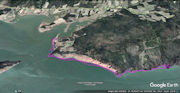 Sept 21 - Amherst Marsh
Nice paddle for those that missed it.
I was the only one that showed up, so I explored the Smith Lakes, a series of three joined lakes on the marsh. The only life I saw were birds and bugs on my 10.6km paddle of exploration.