Atlantic Kayak Association

2021 Trip Reports & Pictures

June
Rather than put a bunch of thumbnail images to click on that send you to the full-size images, the map thumbnail sends you straight to the start of the image set.
June 06 - Loggiecroft
We had 14 turnout for last minute addition to the schedule.
Somewhat cool at around 17º and a tad windy for the return leg of this for this 8.2km paddle.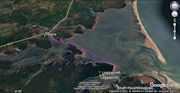 June 21 - Silver Lake, Middle Sackville, NB
Well, apparently Wednesday is not the day to schedule a paddle.
I did a nearly 11km paddle around the lake.