Atlantic Kayak Association

2004 Trip Reports & Pictures
August
August 02 (NB Day) – Buctouche Dunes - Saint Edouard de Kent
Three of us decided on a little 14.2km paddle on the outside of the dunes. It was sunny and warm; the wind was light, and the seas calm – quite relaxing. We actually paddled to about 1.5km past where we touched down last Wednesday.

Uneventful, just the watched the terns diving for minnows, and giving that little shake after they climb back into the air.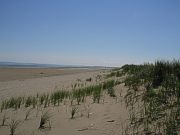 August 04 – Buctouche Dunes - Saint Edouard de Kent
Nine paddlers showed up last night for a return visit to the Buctouche Dunes. We did a leisurely 11.2km paddle along the dunes, watching the turns plunging into the water in search of food, and a flock of about 40 cormorants. Our destination was to reach the spot where, on the other side of the dunes, we had reached the prior Wednesday. After a 20-minute stretch and talk, we made our way back to the starting point, arriving just after a beautiful sunset. Good friends, good paddle.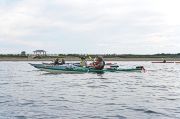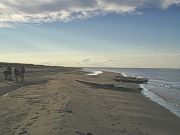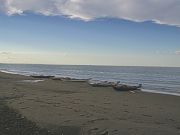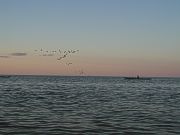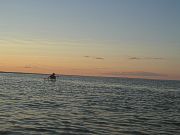 August 8 - Kouchibouguac Grey Seal Adventure
Twelve of us showed up for the "adventure". Unfortunately, while the water temperature and tides were with us, it was heavily overcast, and the seals were not inclined to sit on the sandbars. We did see at least a couple of dozen seals, and at times they were doing flips on the surface, usually just a short distance behind a boat – must be a new game. It's estimated that about 100,000 sea birds nest here on the dunes also – we even saw a little duckling – don't know where mom was.

The paddle was 13.8km, we stopped about half-way through for lunch, and again about a half-hour later when a dark cloud threatened, and then made good on that threat. Fortunately, there was a campsite conveniently located at the mouth of the Kouchibouquacis River, which happened to have a 12-person woodshed, which we utilized for the occasion.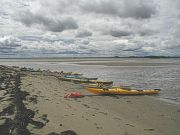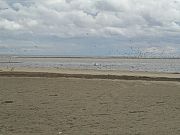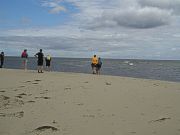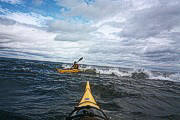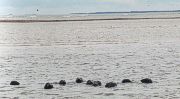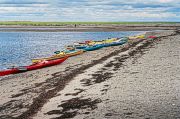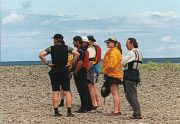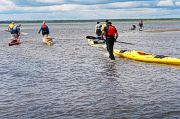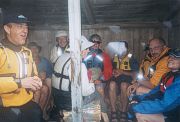 August 11 - Cassie Cape
7 of us had a nice paddle last night from our put-in point heading south to the cottage area of Cassie Cape - quite windy for most of the trip but that blew us home and its settled right down as the sun set.
August 15 - Confederation Bridge – Northumberland Strait Crossing - Under the Bridge
You might not want to look at this photo if you're not in it. We had a great paddle today across the Northumberland Strait to PEI. It was 14 kms from one end of the bridge to the other. There was a light wind blowing from the southwest. It gave us a little help. We encountered some nice waves, up to 4 ft we reckon. There did seem to be a current moving from west to east under the bridge but it could have been caused by the wind. Don, Kilby, Terry,Gerard and Jim made the trip, and we all felt very happy and proud to land on the other side. There were no incidents.